I have an announcement to make. I am so excited about this. I just got on the waiting list for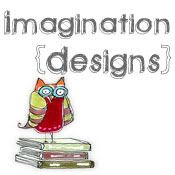 I am getting a custom package design for the blog. Lori from
Imagination Designs
and the book blog
Pure Imagination
has been helping me out trying to figure out what I want and I have to say I really can't wait to see what she comes up with with the design package I have chosen. It will take a while. I believe I'm 18th in line. I've been checking out her current "work in progress" throughout the week and am having fun seeing what pops up on her
sample blog
every day.
To go with my new design I have an even bigger announcement. I have been thinking about doing this for a long time and decided to finally go for it.
I am changing the blog name 100 Stars Or Less to...
To be announced.
I have various reasons for this. The biggest one is that the 100 in my blog name is supposed to mean that I review only books with less than 100 ratings on Goodreads. However, I've found a lot of the time I will accept a book for review and by the time I get to posting my review there are a few too many reviews over 100 for that to make sense. There are also many many indie and small press books nowadays that have become very popular and I'd like to be comfortable with reading and reviewing those books as well (Amanda Hocking comes to mind!).
Overall, I'd just like people to come here knowing that this is a place for me to share about the authors and books who you might not have noticed in mainstream media.
I'd also like to have a name that is obviously about books when I'm just linking to it. I want a name with some pizazz that will get people interested in the blog before they even visit it.
While those aren't the only reasons I want you to know I wouldn't be making a change this huge if I didn't think it could make this a better blog and a more interesting place for me to hang about.
Please stay tuned. Within the next week 100 Stars Or Less' new name will be revealed. When that happens the URL will also change so if you have linked to me anywhere on your own website I would greatly appreciate you coming back here to get the new link so your readers can still find me. There will be a page posted to redirect you to the new URL. I have been avoiding posting anything new this week to avoid the change of any more links.
Working out the technical details. I'll see you in a few days!
Erika