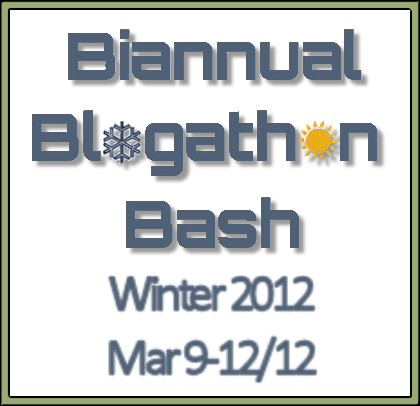 Today was the last day to participate in the Biannual Blogathon Bash, and while I started late and then came down with the cold that could turn anyone's head into mush, I still had fun and completed a few of my goals. I even looked into a few of the mini-challenges and had fun with those.
Here is what I accomplished from my to-do list:
* Add current giveaways on sidebar
DONE!
This is something I usually do anyways, so this seems like a no-brainer. However, I actually took this opportunity to figure out how to make my giveaway section much more visually appealing and add more details by using the HTML/Javascript widget instead of the picture widget. This task took me about half an hour between looking into the html codes and playing with it to get it to look exactly the way I wanted.
* Find more places to promote giveaways, share links, etc.
DONE!
I did a little research and joined two Goodreads groups that I didn't know about before:
Advanced Review Requests /& Giveaways
It looks like a great place for readers, bloggers, and authors to connect.
and
Free Book Giveaway
This is similar to other giveaway groups I have joined in the past and follow, but there are more members here. I'm really glad I found this one too since it will give my author guest much more exposure.
* Write at least 3 reviews from my finished books for review pile
PARTIALLY DONE
I didn't get the chance to write any more general reviews this weekend, but did remember that I have a mini-review sitting on my desktop, already there to go.
* Write reviews for at least 2 children's books
PARTIALLY DONE
I wrote one review for a children's book which is all ready to publish on blogger.
* Cross-post all of my reviews to goodreads profile
DONE!
I did this!!! I accomplished this task on the first day. I had about 20 reviews still to cross-post to Goodreads, but I could not remember which ones I needed to do, so I actually had to check every single one of the books on my archives list to make sure I wasn't missing any. I think from now on I will have to cross-post all my reviews the moment they get published. This took at least 2 hours of my time to fix!
* Mark all dates on calendar when posts will appear
PARTIALLY DONE
I only managed to get March's calendar and a little of April's done, but now I know what I should be working on each week which will make my life much easier, at least for a little while.
Mini-Challenges:
These are the mini-challenges I looked into during the weekend. There is
a list of all of them here
. Some of them were just fun and some of them were
Name our mascots
:
This was a simple little challenge, just to comment with the names we would want for the mascots. Winter Blogathon is a snowflake and Summer Blogathon is a sun. They are both very cute. I came up with Sunny and Snowflake...not very creative, I know ;)
Meet Alexa
:
I looked into this, read the whole post to see what Alexa is all about and how people go about improving their Alexa rank. But after thinking about it, I decided it's just not for me right now. I would be spreading myself too thin with all the social networking and having two blogs, two twitter accounts, etc. I wouldn't be able to accomplish very much in my spare time to make it worth my while. I am glad I know about it now so that I can do this in the future when I do have time.
Organizing Your Email
:
This was by far the most helpful post on blogging tips I have read in months. I am so glad that I clicked on this one. I am so disorganized when it comes to email. I get so many, sometimes it's hard to know where to start and by the time I finish with one batch, there are ten more. It's not even all "junk mail" I just need to delete either. Callista's tips are so helpful and I'm going to keep this one bookmarked so I can keep improving my organization and save time for the side of blogging that really matters. Here is what I accomplished:
I finished the mini challenge which was to delete 50 emails from your inbox. I spent some extra time and went back all the way to December, deleteing 200 emails I no longer needed to keep.
I figured out how to use my email system to filter incoming mail to different folders. I now have at least one incoming email I get 1-2 times daily, going into its own folder. I don't need to look at them, but I do need to keep them. That saves me extra time every day to look at 1-2 other emails.
I finally have an email signature! Hooray! Now I no longer have to type in my blog names and link them manually each time I want to make sure a reply has them in the email - they are both automatically there. Callista also talked about using the signature box as a template when you are sending out emails that are all the same (for example, accepting or declining to review a book). This is a great tip and is going to be a wonderful tool to get all my replies accomplished in a fast, efficient way.
Wrap-up:
Well, it seems from above like I accomplished more then I feel like I accomplished (if that makes sense). I got a lot out of this experience and can't wait to do it again in the summer. I will also continue to put into practice the tips that I found through the mini challenges and take the time to look into the mini challenges I wasn't able to yet.