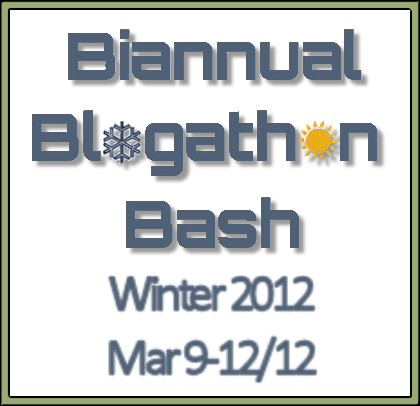 About a month ago, I signed up to participate in the Biannual Blogathon Bash. I'm a bit late in the game - it started Friday - but I am all ready to get some "extra" things done for my blog here.
I'm not sure how much time I can devote to the blogathon this weekend, because of family duties, cleaning, etc. I want to say I'm going to blog for X amount of time, but keeping track of that seems too overwhelming for me, so I'm just going to aim to get my list done by the end of the weekend!
My To-do list:
* Add current giveaways on sidebar
* Find more places to promote giveaways, share links, etc.
* Plan and write up at least 3 "Highlights from Waterloo Region" posts
* Write at least 3 reviews from my finished books for review pile
* Write reviews for at least 2 children's books
* Make up posts for the authors interviews I've received
* Cross-post all of my reviews to goodreads profile
* Mark all dates on calendar when posts will appear
* Organize ebooks for review and add to my
goodreads "review pile" list
Check in with me tomorrow to see what I've accomplished so far!
This is my first time participating in a blog-a-thon so any advice or comments are very welcome :D